Themed Foliage Packages
Jeren Tropicals has developed an array of themed foliage packages that will become the perfect accent for your next big event. You can also discuss your personal ideas with our creative director and together design your very own theme!
Escape to the Everglades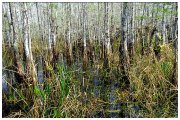 Tall native palms, dry oaks, low lying grass plants and brush dot the landscape with a clusters of trees throughout. We add up-lighting and you have the feeling of being in the Everglades.

Jungle Heat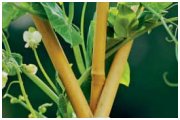 Towering palm trees, tropical foliages, cut bamboo canes, faux stone boulders, bromeliads and moss finish the look, with topiary monkeys hanging from the trees.

Woodland Setting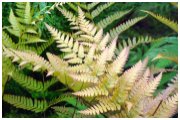 Tall oak trees surrounded with ferns, mosses and mulch. Native forest plants, a faux campfire, tent, canoe and oars.

Jungle Canopy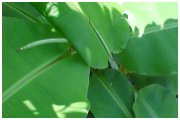 Bamboo canes are laced to create a canopy above the dance floor. Native vines and banana leaves, mixed with large palm fronds and hanging topiary moss monkeys.

Winter Escape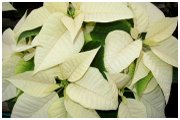 White birch trees, white oaks, snow covered with twinkling white lights and white seasonal blooming plants. Finished in soft white up-lighting, with seasonal characters (reindeer, polar bear, etc.) all in white.

Taste of Florida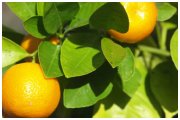 A working grove with "faux fruit trees" of varying sizes, park benches and bales of hay. Bushel baskets and a mini fruit stand. All trees come with your choice of fresh fruit. Fresh fruit table centerpieces can also be added to this package.

Farmers Market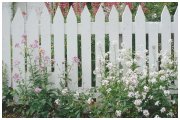 Tall shade trees, split rail fence, hay bales, and an old fashioned "shade garden" of blooming plants surrounded by a picket fence. Completed by our "vegetable stand."

The Ficus Tent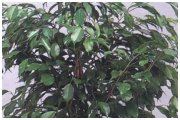 Tent poles are wrapped with ficus cuttings; the ceiling of the tent can also be covered. This look can be tailored or loose and free-flowing. Add Tivoli lights or a shadowed effect with Par 38 up-lights in your choice of colors.

Dancing Under the Trees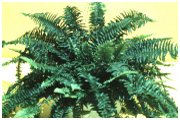 Cut ficus branches throughout the ceiling of the dance floor with white Tivoli lights. On each of the corners the lighted "anchor" trees are placed with ferns at base.

The Koi Entrance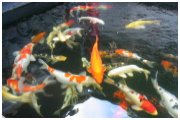 Two Koi ponds are separated by a foot bridge with a lush foliage package of ferns and tall studio palms. The ponds have working bubblers and give sound to the entry.

South Beach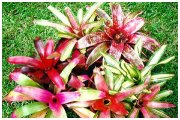 Mahogany stained cube is filled with tall palms, tropical foliages, bromeliads and orchids. Up lit in your choice of colors.

A Day at the Beach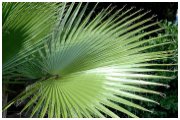 Tall custom studio palms up to 16 feet high dot the room with bases of wispy grass, fan palms and sea grape. Includes amber and yellow uplighting. Finished with beach chairs, umbrellas, picnic supplies and beach towels.e

Spring Garden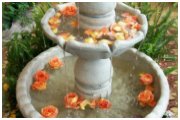 A flowing 3 tier fountain, blooming and foliage plants with lighted topiaries and ferns, brick pilasters topped with statuary, and a matching balustrade complete the garden.

Hallowed Ground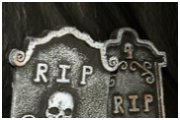 Dried oak trees, melaleuca trunks, lifeless trees, cobwebs, moss, spiders, black cats, overgrown grave sites and crumbling grave markers.

Winter Days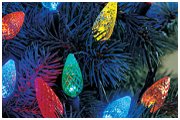 Rock faced mountains, a forest of Christmas trees and Norfolk Island pines, snow banks of covered stands of lifeless birch trees, all glittering with multi-colored lights.

The Old West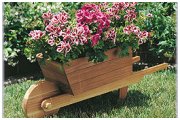 Oaks, ficus hedges, Norfolk pines, split rail fences, topiary horses, hay bales, and wheelbarrows filled with country flowers and tumbleweeds.

Bali Hai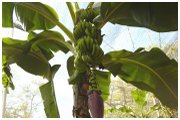 Custom bamboo structure with flowing fabrics, anchored on the four corners with banana trees, ferns at the bases and hanging moss monkeys.

Rocky Mountain High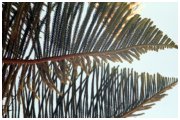 Oak tress and Norfolk Island pines are set in and around cascading rock faced mountains, mixed with native brush, moss and grasses. Includes topiary rabbits and turtles on the mountains.

JUST CALL JEREN - 954-424-1114